Hotels
The congress organisation has decided to work in close cooperation with Basel Tourismus for the ESTP congress. They've negotiated special rates and conditions at the hotels that are listed in the booking module down below for participants of ESTP 2023.
The online reservation system, with a map indicating the distance to Hyperion Hotel in Basel where the congress will take place, provides all important information about the hotels, such as facilities, rates and pictures.

The most comfortable way to book your room in Basel is by using the online reservation system.
Click here to book your hotel room!

Please find below further information about the congress hotel Hyperion Hotel in Basel.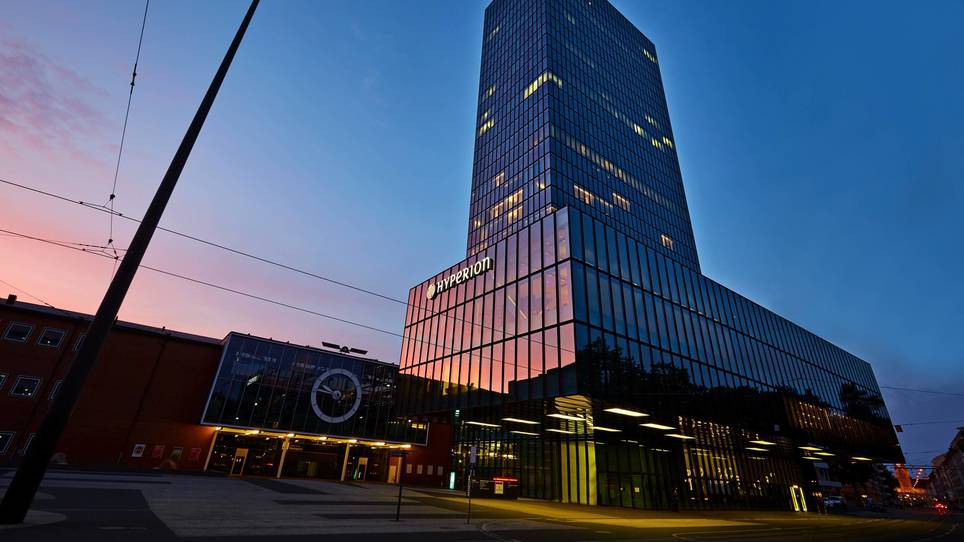 Hyperion Basel
At 105 metres, the Hyperion Hotel Basel in the Basel Trade Show Tower is one of the tallest residential buildings in Basel. Hyperion Basel is ideal for business travellers and conference attendees. Nearby conference and exhibition centres include Baselworld, Congress Centre Basel, and Muba. We're also next door to Messeplatz, a popular tourist attraction featuring eye-catching architecture, and intriguing exhibitions. It is a ten minute walk to the hotel from Badisch Bahnhof train station. If you're coming by car, you can park in the hotel's own underground car park. The hotel is wheelchair accessible, the lifts can take you to all floors.
Messeplatz 12, 4058 Basel
T: +41 61 5604000
E: hyperion.basel@h-hotels.com
www.h-hotels.com/en/hyperion/hotels/hyperion-hotel-basel